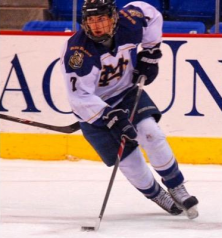 Congrats to SSH Instructor Austin Goldstein for his recent commitment to play for Northeastern University.
From ESPN:
MC's Goldstein commits to Northeastern
Scott Barboza, ESPN Staff Writer
Malden Catholic hockey forward Austin Goldstein gave a verbal commitment to Northeastern this weekend.
The Melrose native put up 10-14—24 totals for the Lancers during his senior season last year.
"They're honest guys, they care about my future," Goldstein said of Northeastern's coaching staff. "The things they said about how they'd help me develop and everything about Northeastern made it pretty easy to commit."
Goldstein's schedule to arrive at Northeastern for the 2017-18 season.
He joins a recent pipeline of MC talent in Jim Madigan's program. Goldstein's teammate Matt Filipe is a 2016 Huskies commit and former Lancers captain and ESPN Boston Mr. Hockey award winner Brendan Collier joined Northeastern last year.
Goldstein, who had also fielded interest from various Atlantic Hockey and ECAC schools, gave his commitment after participating in last weekend's Beantown Summer Classic.
"Matt [Filipe] was the first person I told," We've been playing together since we were about 7 years old. We won a state championship when we were that age, and won Super 8s together and hopefully we can win together at Northeastern, too."