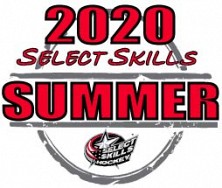 COVID-19 UPDATE: The online registration has been RE-OPENED. The start dates have been updated with the rink openings. We are looking forward to gtting back on the starting Wednesday June 10th.
2020 Summer Skills registrations are now open.
Locations: Malden, Revere, & Saugus are now accepting registrations.
All SELECTSKILLS HOCKEY Camps are designed so that the players skate once-a-week throughout the summer. This will allow for a break from hockey season while maintaining the long term development of core skills. All of our camps sell-out early, so please reserve your spot ahead of time.
MONDAY NIGHTS:

Revere

WEDNESDAY NIGHTS: Malden

THURSDAY NIGHTS: Saugus
For more information or to register now online, check out the Summer Skills Page.